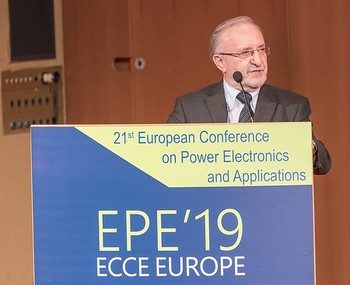 Dear Members of EPE Association,
Dear Contributors and Participants,
Since the foundation of the EPE Association in the early 1980´s and the first EPE conference in 1985, we have become very successful in establishing a Power Electronics Research Forum in Europe for Industry and Academia. The Power Electronics Industry is having a long history in Europe and with our leading scientists from Academia and top experts in Industry, we are having a strong position on the world market.
The EPE conference provides an important technical platform for an annual exchange of information for experts on a worldwide basis. During this annual meeting we are covering the most important disciplines along the value added chain of Power Electronics Technology. Every year we are highlighting the latest research results and attracting experts from Industry and Academia for technical discussions and an open innovation forum.
We are looking back on a very successful EPE conference this year in Genova and are looking forward for leading edge research results at next year's event.
During our next year's EPE ECE Europe conference in Lyon (France), beside the general topics in Power Electronics technology, we will focus on important future development trends such as E-Mobility, DC Grids and Energy Digitalization.
We are proud of our newly developed website, which provides a quick overview of all events regarding the EPE Association and Conference.
Best Regards,
Leo Lorenz
President of EPE Association